A pé ou de carro
Mar 12
npr:
Show Us The Thumping, Pulsing 'Heart' Of Your City

From the coffee shop on the corner to the park down the street, all urbanites have a place they think of as the heart of their city. It's where you go when you want to feel like a citizen of Memphis, New York City or San Francisco. It's the place you think of as synonymous with Atlanta, Washington, D.C., or Portland, Ore. It's what you talk about when someone asks, "What's Chicago like?"

And even if your local office of tourism has never heard of it, we want to know what and where it is. We want you to show us the heart of your city. Is it the subway platform? The view from your favorite bridge? Snap a photo or make a quick recording, then send it our way via email (nprcities at npr dot org), Flickr (tag your photo #nprcities), Tumblr (tag your submission #nprcities) or SoundCloud (make sure your clip is downloadable).

Include your name, the name of the person who took the picture or recorded the sound, the location of the photo or audio (full address or street intersection, including city and state), and describe your submission in 300 characters (!!!) telling us what makes it the "heart of your city."

As long as you can photograph it or record it, nothing's too small! But we do have some guidelines:

1. No Liberty Bells, Please. Tourist attractions are fun to visit, but we're looking for the part of your city that gets left out of the guidebooks.

2. Limit Your Sound Recordings To One Minute Or Less. We're looking for sound that gives a sense of place.

3. Remember, We're A Family-Friendly Website. This probably goes without saying, but please keep your submissions G-rated.

4. Sorry, No Videos Or Animated GIFs. But that doesn't mean you can't get creative.

5. Think Public Spaces. The basement your band practices in may be SO Detroit, but we're looking for places everyone can experience.

[NOTICE TO USERS: NPR reserves the right to read on the air and/or publish on its Web site or in any medium now known or unknown the emails, audio clips and photographs that we receive. We may edit them for clarity, brevity or format and identify authors by name and location. By sending us a photograph, email or audio clip, you agree to these terms. For additional information, please consult our Terms of Use and Privacy Policy.]

Photo credit: esemelwe/iStockphoto.com
… the IKEA generation is dying. It used to be that you would have your great-grandparents furniture. Those beautiful pieces would move from one generation to the other. That thought is valid again."
Toda a entrevista está mesmo bonita.
(Source: somethingchanged)
Mar 11
npr:
This 14-Year-Old Girl Just Bought A House In Florida

When a 14-year old can afford to buy a home, does that mean home prices have hit bottom? Willow Tufano is a child of the housing collapse. Her real estate agent mom scrapes together a living in Florida by selling foreclosed properties. Willow found her own niche scavenging abandoned washes, dryers and furniture from her mother's properties and selling them on Craigslist. In just six months, Willow saved enough money to buy a two-bedroom fixer upper for $12,000. -Chana Joffe-Walt (Photo by Chana Joffe-Walt/NPR)
(via moneyisnotimportant)
Feb 21
Mais sobre Portugal e o combate à droga -
"Fortunately, we have a real-world example of the actual effects of ending the violent, expensive War on Drugs and replacing it with a system of treatment for problem users and addicts.

Ten years ago, Portugal decriminalized all drugs."
Na continuação do post anterior, sugerido pelo joaolynch.
Feb 20
Portugal! Pelo menos para os a(c)tivistas da legalização das drogas. O artigo é de 2009, mas não deixem que isso vos impeça de o apreciar.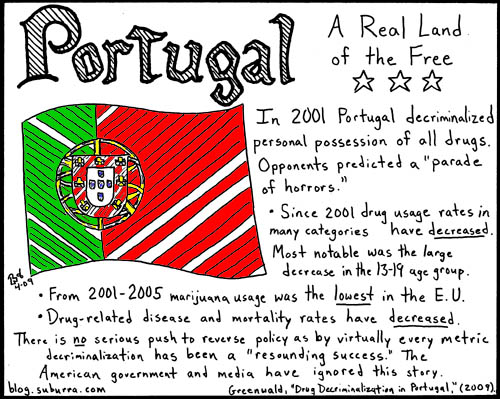 ?
Feb 12
Angola fecha portas ao Acordo Ortográfico -
"Por outro lado, o jornal Sol dizia há dias que a Provedoria de justiça está a analisar uma queixa que pretende travar o Acordo Ortográfico, sob pedido de revisão da constitucionalidade por Ivo Barroso, professor da faculdade de Direito da Universidade de Lisboa. O mesmo garante que as regras de escrita são inconstitucionais. 'A nossa Constituição é rígida', explica Barroso, acrescentando 'que nenhum tratado internacional – como o Acordo Ortográfico – ou recomendação da Assembleia da República podem mudar o que está na lei fundamental do país.'" — 10.02.12
Não estava à espera desta.
Feb 11
Hey!
A favor da liberdade na internet? Leiam a newsletter da FFTF de 9 de fevereiro, ou a tradução em português aqui.
Newsletter da Fight for the Future (9.02.2012)
(Esta é a tradução que fiz para Português Europeu. Podem ler o original aqui.)

Olá!
Juntos, derrotámos a SOPA numa vitória gigante para a liberdade na internet. Mas este sábado vão rebentar protestos por essa liberdade em mais de 200 cidades por toda a Europa. Porquê?
Porque as companhias por trás da SOPA estão a usar acordos comerciais internacionais como um atalho para passar leis iguais à SOPA
Os apoiantes da SOPA estão a impulsionar dois acordos: o ACTA e a TPP1. O ACTA criminaliza utilizadores, encoraja os fornecedores de internet a espiar-nos, e fazem com que seja fácil para as empresas de comunicação social processar e levar sites à falência e aprisionar os seus fundadores. Parece familiar? É verdade: o ACTA é feito do mesmo molde que a SOPA, mas global. E ainda para mais, não foi aprovado em Congresso2.
A TPP vai ainda mais longe do que o ACTA, num processo ainda mais secreto e corrupto. No último fim de semana (quem nos dera que isto fosse uma piada), negociadores comerciais festejaram com lobistas da MPAA (pró-SOPA) antes de negociações secretas num hotel em Hollywood, enquanto os grupos de interesse público foram proibidos de se reunirem no mesmo edifício.3
Acordos comerciais são um buraco gigante, um atalho secreto que, embora crie novas leis, está a quilómetros da democracia. Os negociadores comerciais não são eleitos nem respondem perante ninguém, por isso estes acordos são muito difíceis de ser parados por grupos na internet.
Mas agora a maré está a virar. Alimentados pelo movimento para parar a SOPA, protestos anti-ACTA estão a rebentar em toda a UE, que ainda não ratificou o acordo. Os protestos estão a ter impacto: os líderes da Polónia, República Checa e Eslováquia retiraram-se do ACTA.4 Agora, uma onda massiva de protestos de rua em mais de 200 cidades está planeada para este sábado, 11 de fevereiro.
Nós estamos a planear um protesto online este sábado para apoiar os protestos nas ruas. Porquê? Porque juntos podemos enviar milhões de emails a decisores chave — e começar a inclinar a balança como fizemos com a SOPA.
Podes participar? Clica aqui para ter o código para correr no teu site!
Acabámos de construir uma ferramenta de contacto para o ACTA e para a TPP, e não é só uma petição. É um código para o vosso site que identifica o país do visitante e o deixa enviar um email a todos os seus Membros do Parlamento Europeu — os políticos que vão votar sobre o ACTA em junho — ou os negociadores comerciais por trás da TPP. Este contacto direto entre os eleitores e os seus representantes eleitos, levado a cabo por websites de todos os tamanhos, foi essencial na luta contra a SOPA.
Podemos usar as mesmas táticas para derrotar o ACTA e a TPP, mas precisamos da vossa ajuda!
Apoia os protestos na rua com uma enchente de emails aos representantes governamentais responsáveis pelo ACTA e a TPP. Arranja aqui o código para o teu website!
Não tens um website? Diz aos oficiais do teu país para descartar o ACTA e a TPP. E espalha a palavra sobre os protestos deste sábado!
Esta vai ser uma luta difícil. Mas precisamos de fazer com que acordos comerciais secretos sejam mais difíceis de passar do que leis. Se não o fizermos, o futuro da nossa internet pertence aos lobistas por trás da SOPA.
Isto é só o princípio,
—Holmes Wilson, Tiffiniy Cheng, Joshua Blount e toda a equipa da Fight for the Future.
P.S. Este mapa dos protestos de rua do ACTA na Europa é espetacular. O maior tem quase 50,000 respostas!
Fontes:
1. Para mais informação sobre o ACTA, lê estes artigos excelentes da Techdirt e da La Quadrature du Net. Para ler informação sobre a TPP, lê este artigo da Ars Technica. Para um vídeo, vê isto.
2. A assinatura do Obama a favor do ACTA pode ter sido inconstitucional. Vê o Acordo anti-contrafação levanta preocupações constitucionais e a Techdirt.
3. Hollywood junta-se com negociadores da TPP, grupos de interesse público são postos fora do hotel.
4. Ars Technica: governos checo e eslovaco também se retiram do ACTA.
Jan 31
WikiLeaks: Twitter and National Security -
"A year ago, Twitter made waves when it challenged federal demands that it hand over data about three account holders connected to Wikileaks founder Julian Assange.
Online media companies typically comply with these orders as a matter of course. Twitter, though, bucked this trend by suing to lift a gag order that prevented it from telling the account holders the government was after their data. The company succeeded which in turn allowed the Wikileaks subjects to challenge the government's demands. The defendants ultimately lost but the case is still significant for media companies because, in the memorable words of Wired, 'Twitter beta-tested a spine.'"
— 5 ways Twitter is changing media law (Mashable)
Jan 25
"Libertarianism is a political philosophy grounded in a set of principles about rights and their impact on the permissible scope of government. But it's also an attitude of skepticism in the face of claims by the state that, if only given more power, it can fix whatever ails us." — Aaron Ross Powell — The Lesson the Tech Community Should Have Learned from SOPA
(Source: libertarianism.org)
Jan 24
"The researchers hadn't expected to find less brain activity with psilocybin. The thought has always been that psychedelic flights of fancy are the result of an overactive brain. The results were published Monday in the Proceedings of the National Academy of Sciences.
Serious research into psychedelic drugs was pretty much shut down after the excesses of the trip-happy 1960s. Harvard famously fired Timothy Leary in 1963 for experimenting far too enthusiastically with psilocybin and other mind-altering drugs. Psilocybin remains an illegal drug in the same category as heroin and LSD, which the Justice Department says has "no legitimate medical purpose."
Still, several recent small studies have found improvements in people with depression or obsessive-compulsive disorder after taking other psychedelics."
(Source: NPR)
Ok. So, we're working on a collab e-book with Escape the City and life coach and author Philip Bolton - if you want to start something you love this year, sign up and be one of the first people to be offered our new e-book - "How To Find Work You Love". Oh, you'll get a nice discount too! http://bit.ly/y9KKg7
Jan 21
[video]
Jan 18
"I want them to remember that lawmakers and lobbyists who don't understand the Internet have no business trying to regulate it." — Erik Martin, reddit general manager, telling us what he thinks you should take away from today's Internet blackouts. (via newsweek)
(via newsweek)
Dec 26
He dresses up history and his students like the fit: Roosevelt High teacher Chuck Olynyk uses costumes and props to encourage his students to become engaged with distant times and connect their own lives to history. But beneath the period garb, says a school principal, is a good instructor who cares about his classes.

Photo: Sophomores Ricardo Plascencia, left, and Guillermo Bazan, right, help teacher Chuck Olynyk into a suit of armor, part of his lesson about the Hundred Years' War. Credit: Katie Falkenberg / For The Times
(Source: Los Angeles Times)